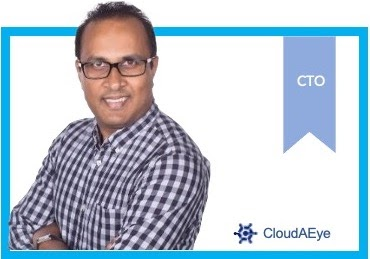 CloudAEye, Inc. Names Dr. Badrul Sarwar Chief Technology Officer (CTO)
San Jose, California, October 20, 2021 – CloudAEye, Inc. today announced the appointment of Dr. Badrul Sarwar, to the position of Chief Technology Officer (CTO). Dr. Sarwar brings two decades of transformative AI/ML experience with deep expertise in recommender systems. As a former Staff Machine Learning Scientist at LinkedIn, Dr. Sarwar worked in the LinkedIn Talent Solution AI team, leading job search, competitive analysis, and job recommendation projects among others.
Prior to that, he worked on scalable ROI estimation, causal modeling, and lead/account recommendation models for the LinkedIn Sales Solution AI team. He also led the modeling aspects of the LinkedIn/Microsoft joint project on sales intelligence. He was one of the founders of the LinkedIn AI Academy.
As CTO, Dr. Sarwar will lead engineering and product innovation at CloudAEye. He will be responsible for developing and executing strategies that will lead CloudAEye to new heights as an AIOps leader. The AI-powered observability and modern cloud application management SaaS (Software-as-a-Service) from CloudAEye will enable today's digital businesses to deliver their services without downtime.
Dr. Sarwar completed his Ph.D. from the University of Minnesota with a focus on recommender systems, where he lead pioneering research that was featured in the Economist magazine and later won two prestigious awards "Seoul Test of Time Award" by the IW3C2 and "Classic Paper Award (Honorable Mention)" by AAAI. He has over 19 thousand research citations of his work, and is named inventor in 16 patents.

About CloudAEye:
CloudAEye is an intelligent cloud service, providing SaaS-based operations management. The AI-powered workflow provides observability services with logs, metrics, traces, and notifications. It focuses on contextual awareness and automatically surfaces anomalous services. CloudAEye also offers frictionless management of an incident and root-cause analysis to reduce MTTD (mean time to detect) and MTTR (mean time to repair).